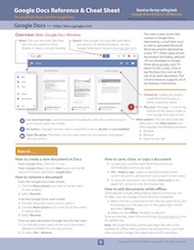 Are you a frequent user of Google Docs, the free online word processor? If so, you may wonder how to access commonly used features and shortcuts. The Google Docs Cheat Sheet can put that information at your fingertips! It is described below. The printed version of the Google Docs Cheat Sheet is available for purchase on Amazon or as a downloadable PDF. We also offer a Google Drive Cheat Sheet and Google Sheets Cheat Sheet.
Google Docs Cheat Sheet
The Google Docs Cheat Sheet contains top tips and easy-to-read annotated screenshots of Google Docs, the free online word processor and Microsoft Word alternative. The four-panel Google Docs Cheat Sheet is printed on 8.5 by 11 inch high-quality card stock, perfect for desks, walls, and shelves. It has holes for three-ring binders. Topics include:
Annotated screenshots of the Google Docs home page and formatting toolbar
Google Docs basics, from document creation to margin adjustmentsTemplates and page styles
Inserting images, comments, headers & footers, and more
How to import Microsoft Word, .rtf, or .txt files
How to activate Office Compatibility Mode
How to convert to Microsoft Word, PDF, and other formats
How to edit documents while offline
How to use Office Compatibility Mode
Keyboard shortcuts
Note that the Google Docs Cheat Sheet does not cover Google Drive, Google Sheets, Google Slides, or other applications in Google's free online office suite. Publisher i30 Media offers separate cheat sheets and references for Google Drive and other applications (see details about Google Drive Cheat Sheet).
The Google Docs Reference and Cheat Sheet was created by the publisher of the top-selling guides Google Drive & Docs In 30 Minutes, LinkedIn In 30 Minutes, Excel Basics In 30 Minutes, and other titles.
How to order
To order a printed copy of the Google Docs Cheat Sheet, visit Amazon. The PDF can be downloaded using this secure order form. There is also an option to purchase 20 copies of the printed Google Drive Cheat Sheet at 25% off the retail price, ground shipping included!
PDF Amazon 20 copies (25% off!)