Google Docs Video Course (covers Drive, too!)
Welcome to the Google Docs video course, for Google Docs and Google Drive! The following video (available via Gumroad ) will show you how to use Google's free online office suite on a Web browser or mobile phone. At the end of the course, you will know how to:
Register for Google Drive, using a new or existing Google Account
Understand the Google Drive interface, and what all of the icons mean
Restore deleted files
Collaborate with other users, and control sharing settings
Create a document in Google Docs, and apply formatting using the Docs toolbar
Add images, page numbers, headers and footers, and other information
Learn the limitations of Google Docs compared to Microsoft Word
Work with Microsoft Word documents in Google Docs, including editing and file conversion
Find, organize, and share files using the Google Drive mobile app for Android and iOS devices such as the iPhone
Open documents in the Google Docs mobile app for Android or iOS, and apply limited editing.
Sync files to multiple computers using the Google Drive app for PCs and Macs
Sign up for the course using a secure ordering form — 25% off the regular price!
About the Google Docs video course
This 30-minute Google Docs video course is narrated by the author of the top-selling guide, Google Drive & Google Docs In 30 Minutes. The course includes lectures on registration, finding and organizing files, creating documents and formatting them, working with Microsoft Word documents in Google Docs, and a complete review of the interfaces for Google Drive and Google Docs on the Web and mobile devices. The tone of this guide is friendly and easy to understand, with lots of step-by-step instructions and examples that show exactly what to do.
This Google Docs video course is for anyone who wants to get started with Google Drive, for work, school, or home use, but doesn't have much time. In addition to serving as a solid introduction to new users, it's great for people making the transition from Microsoft Office, not to mention teachers using Google Drive for education and Google Docs in the classroom.
Take the course now, and save 25%!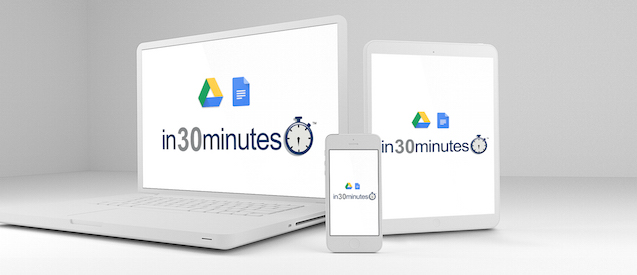 Sample video
This is Lecture 2 from Google Drive & Docs In 30 Minutes. There are 8 lectures in all.